"Komeda" Comfortable Restaurant in Nagoya, Japan!
Komeda is a restaurant or cafe that started in Nagoya, Japan, and Komeda is also Nagoya's culture.
There are over 100 Komeda restaurants in Nagoya city, so you can easily find the restaurant if you visit Nagoya.
That is one of the reason why "Komeda" is recommended for tourists.
However, most of the customer in Komeda is Japanese.
So that place is a well-kept secret for people from other countries.
We recommend eating some famous food at Komeda when you visit Nagoya.
So let me introduce the good points.
Famous Food 1 "Shironowalu"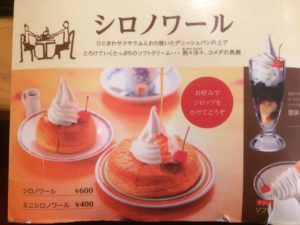 This is the famous food in Komeda, kind of a pie with ice cream, cherry and honey.
That pie is composed by 64 layers, so the mouthfeel is soft and britlle.
Famous Food 2 "Ogura toast"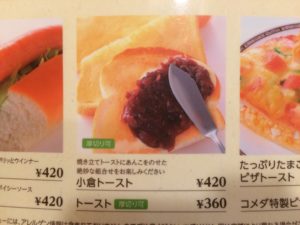 Ogura toast is a toast with Ogura.
Ogura is sweet adzuki bean paste made of a mixture of mashed and whole beans.
This combination ,toast and Ogura, is not common in other cities in Japan, but they say they will love it for the rest of their life when they eat it.
Nagoya's culture "MORNING"
Special service named "MORNIG" is pretty common at each cafe in Nagoya.
The service is not common in other cities in Japan.
If you order the a cup of drink, you will get some other food, toast, boiled egg or Ogura. (Some foof is depends on the cafe.)
But it is only in the morning. That is why it is called MORNIG.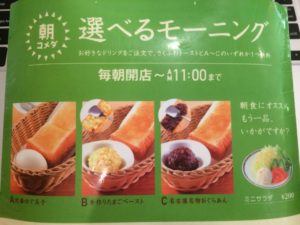 You can find MORNING service at each cafe in Nagoya!
"Komeda Ojisan" Character at Komeda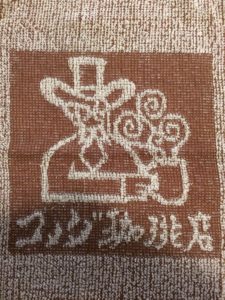 This is a character at Komeda, named Komeda Ojisan.
Ojisan means uncle or middle-aged man.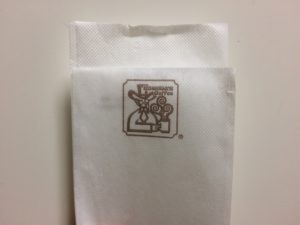 He is designed by an art student when Komeda was started in 1968.
Comfortable Space with Wood
The design inside the restaurant have a rule that over 40% of the field of vision is wood.
Because the rule, you will have a comfortable time in the space.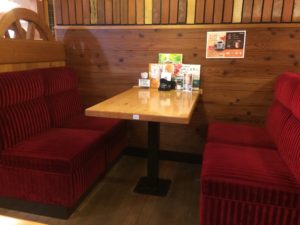 The red sofa is also pretty common in Komeda.
You can find them at each Komeda.
There are also many other good foods and drinks at Komeda!
When traveling, food is important because you can experience culture in the place.
So we recommend to visit Komeda when you visit Nagoya!